Isrotel Gardens Hotel, Dead Sea
( ex The Dead Sea Gardens)
Directly opposite and overlooking the Dead Sea shore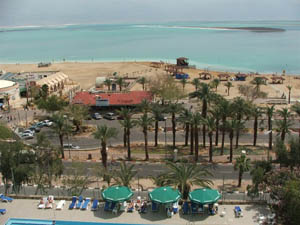 Hotel Facade

Hotel Lobby

Welcome to the Dead Sea Isrotel Ganim Hotel. The doors are once again open, offering vastly improved and luxurious conditions for those in search of the perfect vacation on the Dead Sea.

The 200 rooms all overlook the Dead Sea. We are proud to have 5 rooms with a marble floor for asthmatic guests,5 rooms for the handicapped and a non-smoking floor.. All rooms have direct dial telephone, satellite TV and an in-house video channel.

Spacious Rooms

Renovated Spa

The totally renovated lobby bar is open during the day, you can order beverages, plates of salads and ice cream (dairy). The main dining room is located on the lobby level, the dining room offers meals in different styles: Moroccan, Mediterranean, Oriental, Italian and so on.

For Congresses and Conferences, The Isrotel Ganim has 4 meeting rooms of various sizes that can cater to small and large events for up to 400 participants. Our conference services department can deliver a wide choice of advanced conference and meeting facilities and audio-visual accessories.

The modern Spa area now totals a grand 1600 meters, with private sulphur baths, 12 treatment rooms( for massages, shiatsu, reflexology, and other relaxing treatments) 2 Jacuzzis, a fitness room, dry sauna and 2 Dead Sea indoor pools at different temperatures.

In addition to the large outdoor pool, the hotel also has a children's pool, 2 floodlit tennis courts and a roof-top solarium

Wifi is available at an additional fee.

Outdoor Pool


Please click HERE for on-line reservations

More Israel hotels

A little more information about the location of Dead Sea hotels. First of all, you can't miss them! There is only one road running alongside the western shores of the Dead Sea ( road number 90 ). From Jerusalem, Take the road to Maale Adumim and the Dead Sea, and take the last right ( the only way to go ) onto road 90. Twenty minutes past Ein Gedi, and you reach the Dead Sea hotels area. 90% of the hotel are in the Ein Boqeq area, so you can turn left when you see the first hotel
( The Meridien ) . Only for Golden Tulip Club and Moriah Classic, is it worth driving another 5 minutes, and taking the second left, and driving back a fraction. For privacy, the Southernmost hotels have the advantage, but to be close to civilization, the Ein Boqeq area has shops and restaurants ( including a McDonalds and an Aroma). Beware of new parking meters around the hotel, even operating on the Sabbath! The hotel is one and a half hours drive to Jerusalem, and 2 hours drive South to Eilat.